West High Fall Athletics Registration Open House
Posted August 2, 2022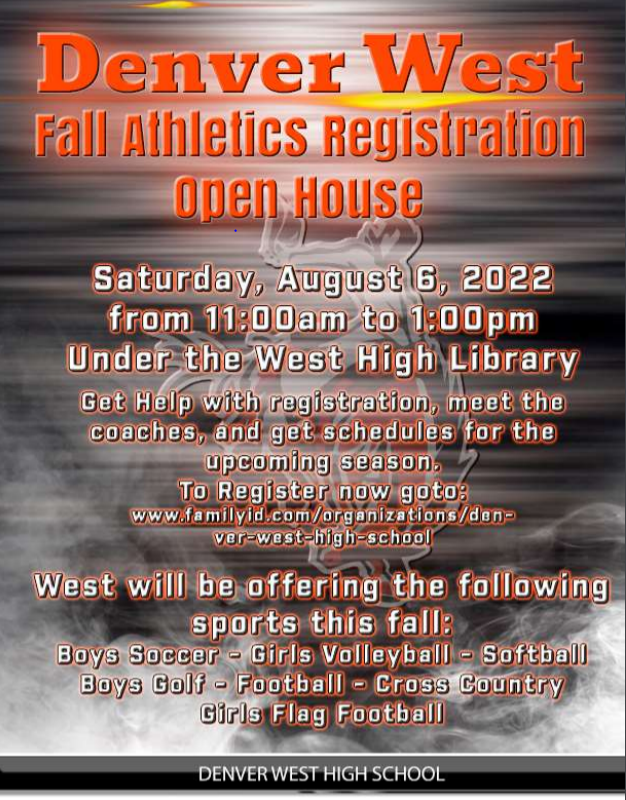 https://tinyurl.com/FALLREG22-23
West will be holding an athletics open house on Saturday, August 6, 2022 from 11:00am to 1:00pm. You will be able to meet the coaches, pick up schedules, and get assistance with registration.
West will be offering the following sports this fall season: Softball, Football, Boys Golf, Girls Volleyball, Cross Country(COED),and Boys Soccer.
Process to register and become approved for 2022 Fall Sport Tryouts
The registration has opened for the Fall 2022 Sports Season. Your student must be on the "approved to tryout list", in order to participate in tryouts and official practice. The process for registration and approval can be found here:
Please register, pay the pay to play fee, and provide consent for your student through https://www.familyid.com/organizations/denver-west-high-school
Upload a current physical examination to familyid or email the copy to lgarcia@dpsk12.net

A blank physical form can be found here if needed: https://chsaanow.com/documents/2021/8/10//Physical_Examination_Form.pdf?id=503
Any DPS student who needs an annual physical for sports participation may call 303.602.8958 to reach the Denver Health School-Based Health line. We are often able to schedule same-day or next appointments that are free to students and families.
Physicals are good for 365 days.

Academic Transcript Review- Incoming 10th-12th grade students must meet the CHSAA eligibility requirements. Students who have 2+ Fs or I's on the 2022 Spring Transcript, will not be eligible to begin the season and will need to academically regain. Incoming 9th grade students do not have a High School transcript at the start of the High School Sports season, and therefore do not require an academic transcript review.